Wanna create beautiful tables without any limitations? Then keep reading this amazing Ninja Tables Review. Here I will introduce you to the best WordPress Table Plugin The Ninja Tables.
You are looking for a table plugin that can integrate with Google Sheets.
The Ninja Tables WordPress Table Plugin is capable to integrate with Google Spreadsheets. It allows you to create beautiful tables without any limitations. This WordPress Table Plugin comes up with all the features that you need in creating tables, like colour customization, column alignment and much more. Using this WordPress Table Plugin saves your time and energy because it has everything that you want in creating tables on your website or blog.
So if you are looking for the best table plugin then I will recommend using Ninja Tables WordPress plugin because of its amazing feature set, easy installation process and user-friendly interface. It's compatible with almost every web browser including Chrome, Safari etc.. Plus, it also supports responsive design so that everyone can view your content on their devices easily no matter where they are located in the world!
Check out our Ninja Tables Coupon to get awesome discounts.
How to get Ninja Tables Pro?
Step 1: Click this special link to go Ninja Tables Pro website.
Step 2: Now click on Ninja Tables Pro Plugin or any other desired plugin.
Step 3: Now click on the Buy now button.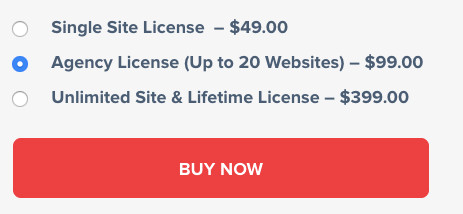 Step 4: Complete the payment and you are good to go.
Ninja Tables Plugin Overview
Creating a table in WordPress is not easy. There are many limitations and it's hard to make the tables look good.
Ninja Tables breaks all those limitations and makes creating beautiful tables simple with amazing features like adding custom styles, columns, rows, sorting data, pagination & filtering options.
Ninja Tables is an ultimate WordPress Table Plugin that allows you to create your own tables for any purpose without writing code or dealing with complicated settings. It comes with lots of customization settings so you can change colours, fonts or add custom CSS rules easily using the live preview option. You also have full control over how the table will be displayed on different devices by changing responsive mode setting from desktop to mobile phones etc..
Amazing Features of Ninja Tables
As I said earlier the Ninja Table is a Freemium plugin, so some features are not available in the free version. Here we try our best to explain each and every feature and tell you How to use them.
Drag and Drop Data Sorting: You can easily Drag and drop every element and design your table according to your need.
Now Import your Table from CSV or JSON File
Add Media to Tables Cells: Now add Image and video to your table. This feature helps you to create the Amazon Product table.
Unlimited colour option: You have a choice to choose any types of colour for your Table heading, Elements and Background.
Custom Filter UI: With this feature, your user can able to filter the element they want
How to create a Table with Ninja Tables?
Once you install the Ninja Tables plugin from WordPress Repository, you will see the below page.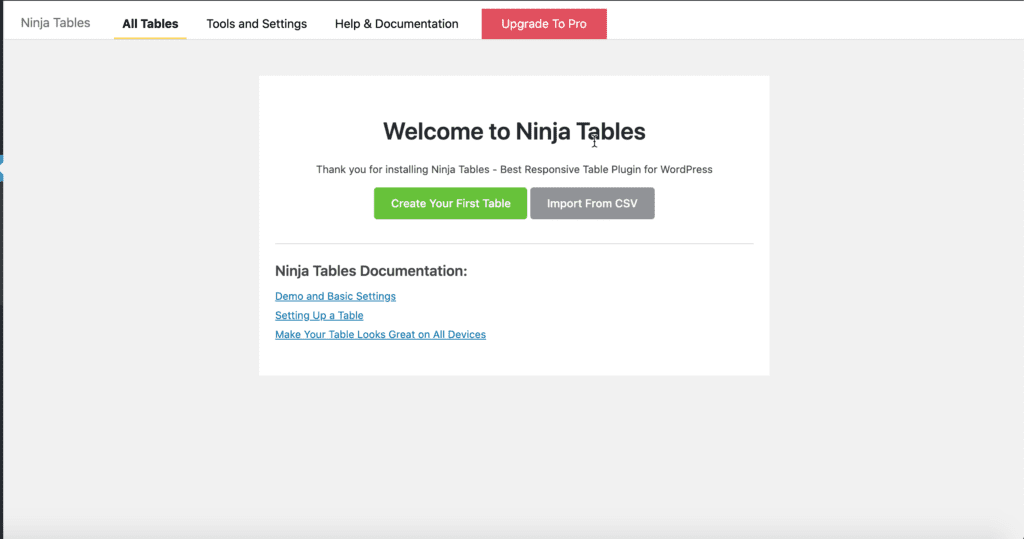 Now, you will get 2 choices. You either create a table by yourself or you can import from the below sources.
Import table from existing CSV or JSON file.
Construct Table from WP Fluent Form Entries
Construct Table from Posts / CPTs
Construct Table from Google Sheets
Construct Table from Remote CSV File
Construct Table from Custom SQL Query
To create a Table, click on create your First Table. Now you will see a pop-up where you can add the title and description of the table.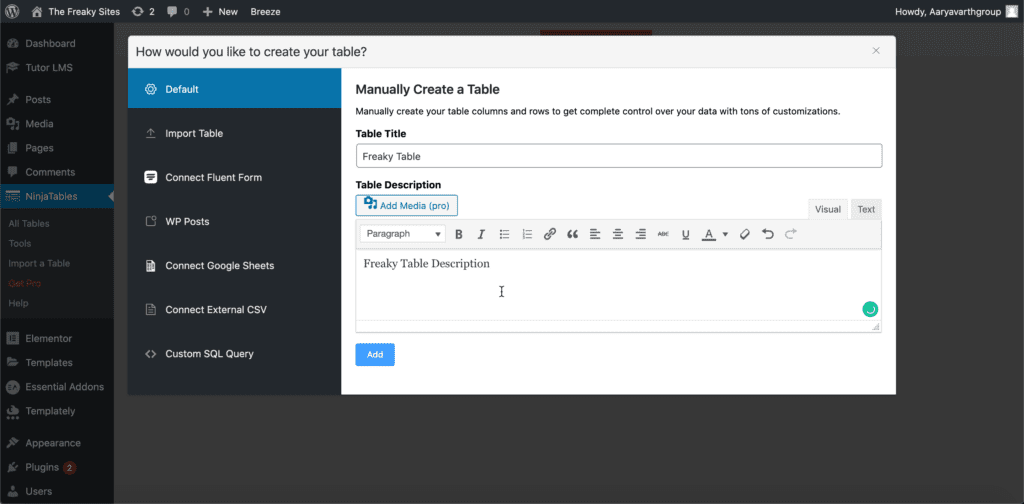 Now you have to add a column and name it. Here, you have the option to select the data type of the column.
You can add Image, Text, Button/Link, HTML, Numeric, data and Select Field.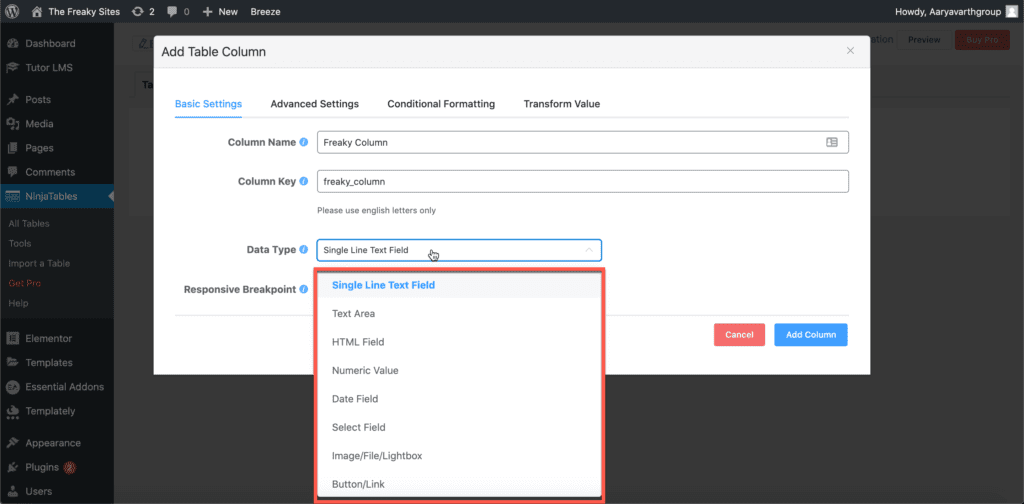 You also have a responsive table option. This means you can hide/show Table to a particular device.
After that, you can play with Advanced Settings, Conditional Formatting and Transform Value. But remember these 3 features are only available in the pro version.
Like this, you can add as much as the column you want to the table. To add the data into it Click on Add Data and enter your data.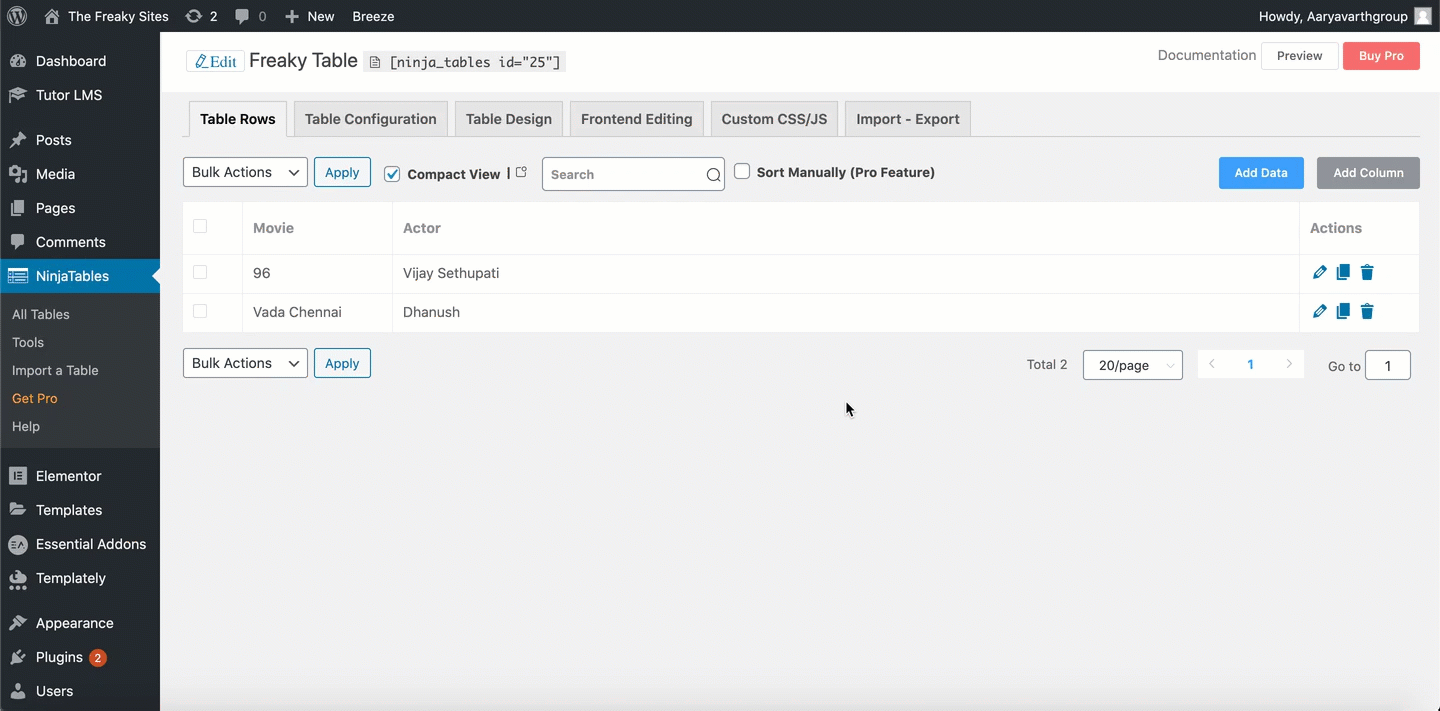 Next, we have the table configure option, here you can configure your table according to your need.
Coming to the Table Design section, you have an option to preview the table with various devices like Desktop, Tablet and Mobile.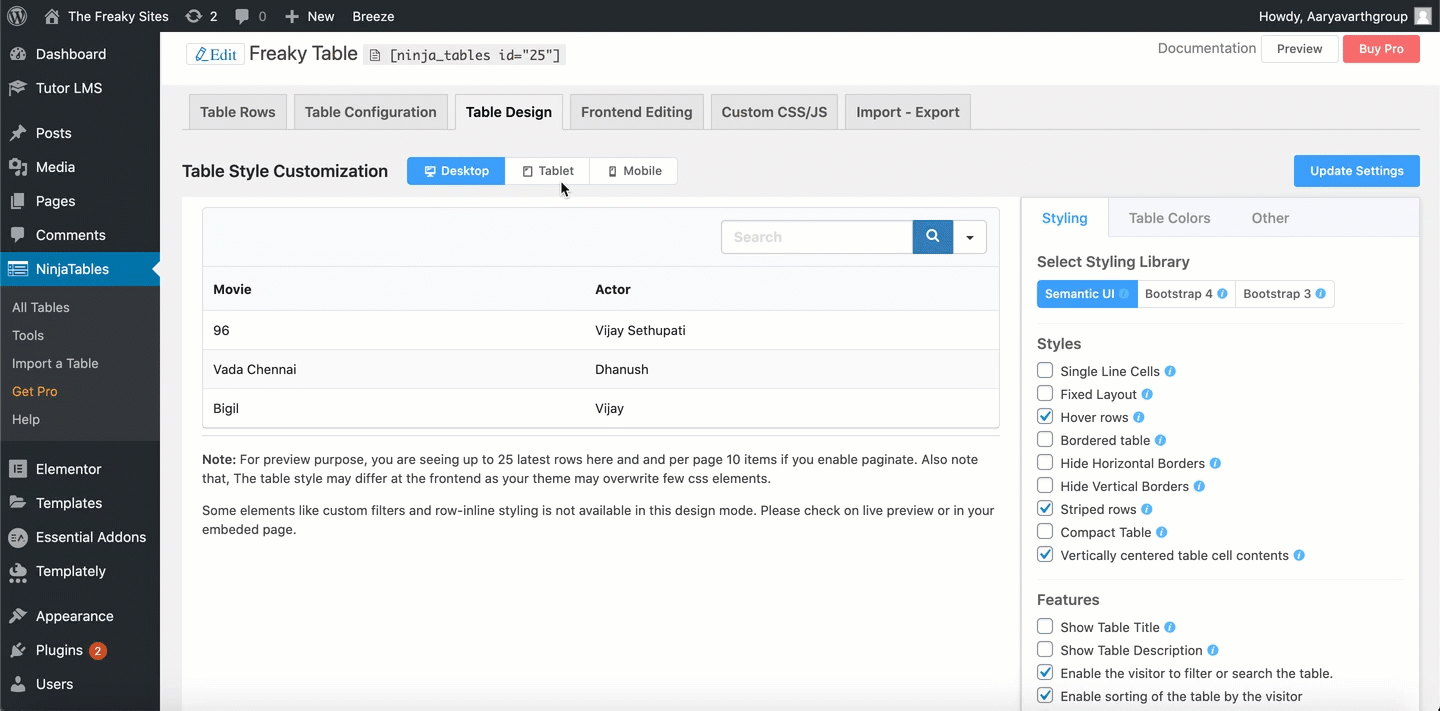 To change the colour Click on Table Colors and change the colour according to your need.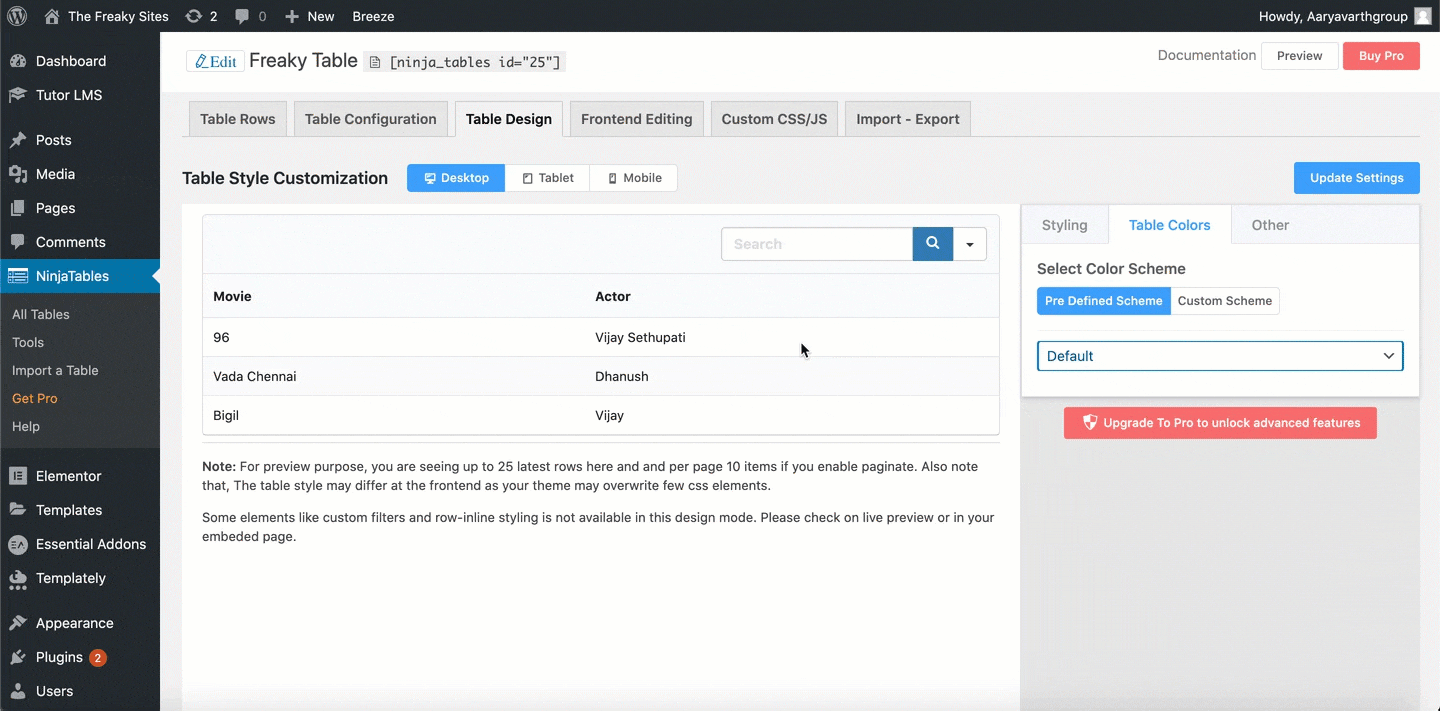 Create a Table with WooCommerce Integration
Ninja Tables Seamlessly integrates with WooCommerce. This lets you Make an inventory-style table that's perfect for large data, big stores, clothing, restaurants, eCommerce, and more. Moreover, you can create the Product list Table like the below screenshot.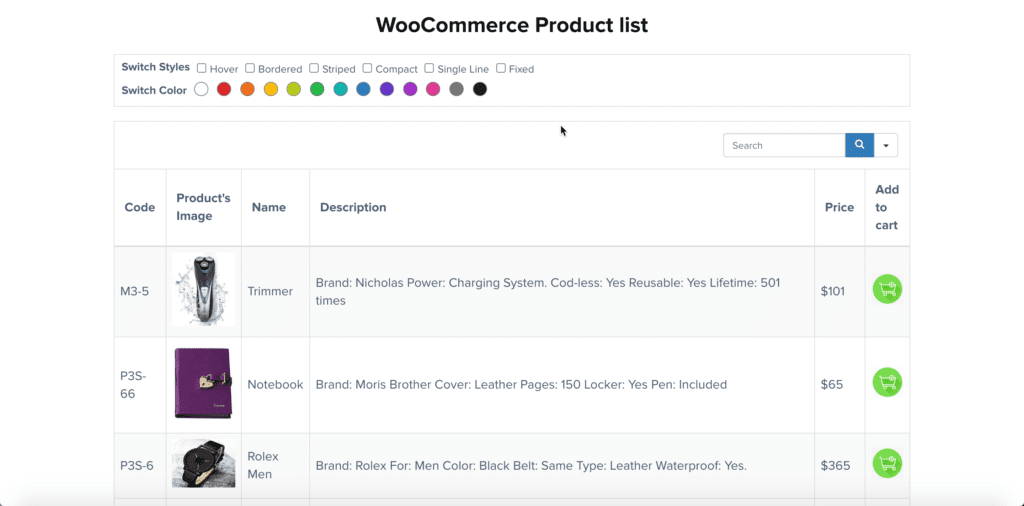 Create a Table with WP Fluent Form Integration
You can easily connect Ninja Tables with WP Fluent Form and Whenever users submit any form, all information will be pulled out to the tables automatically. So like this, you can make use of Ninja Tables with WP Fluent Form to get most out of it.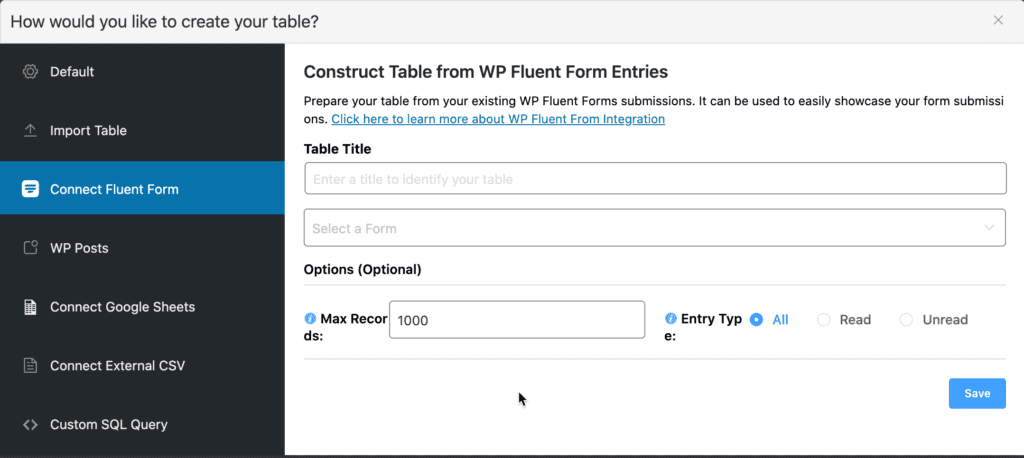 Create a Table with Google Sheets Integration
To import the Google Sheets into your table, you have to click on the add table, then you will see a popup like below. Just Click on Connect Google Sheets, enter the Title and Url of your Google Sheet. It will import the whole sheet into your table.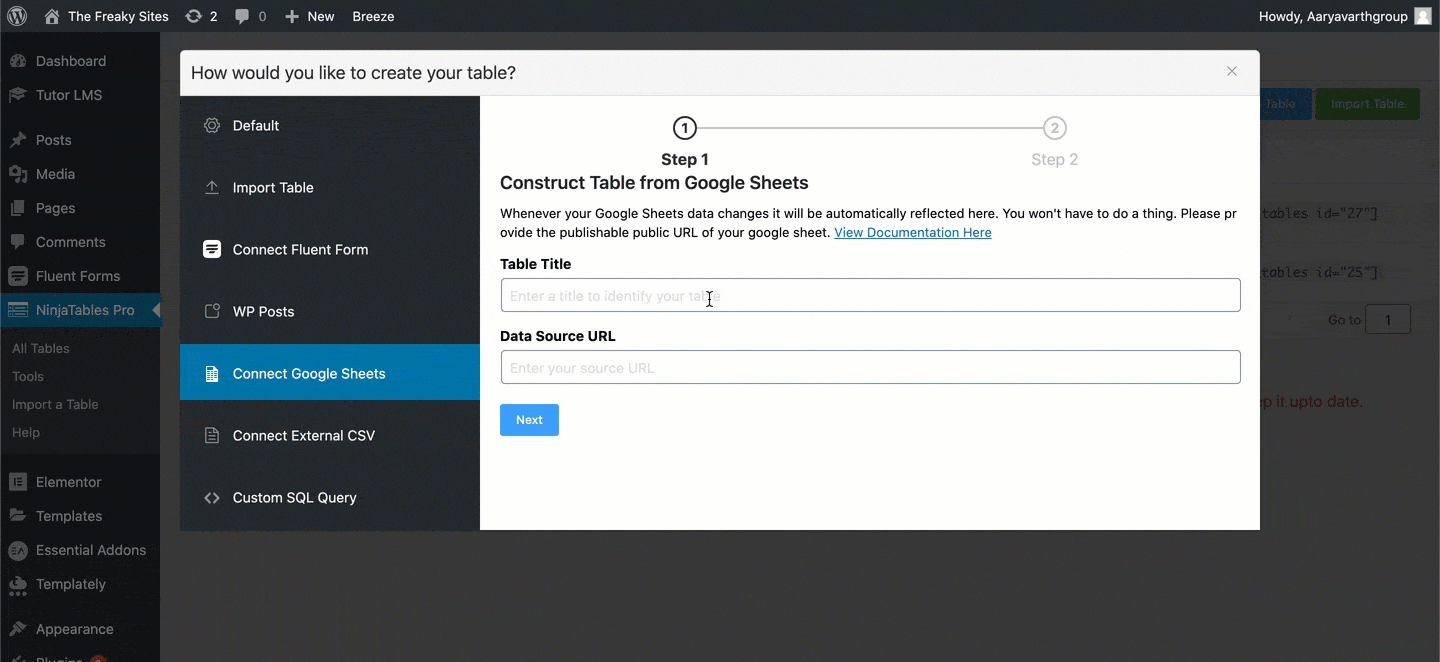 Create a Table with WP Post Integration
To use this feature, click on the add table. Then you need to select the WP Post setting, Here add the posts type and click on next then select the property type and click on save. Now you will save the Post is added to the table.
[Note: Here our Example post name was New post Example which is shown below.]
Create a Table with Remote CSV File
To create a table with a Remote CSV file, you have to copy and paste the URL in the URL section.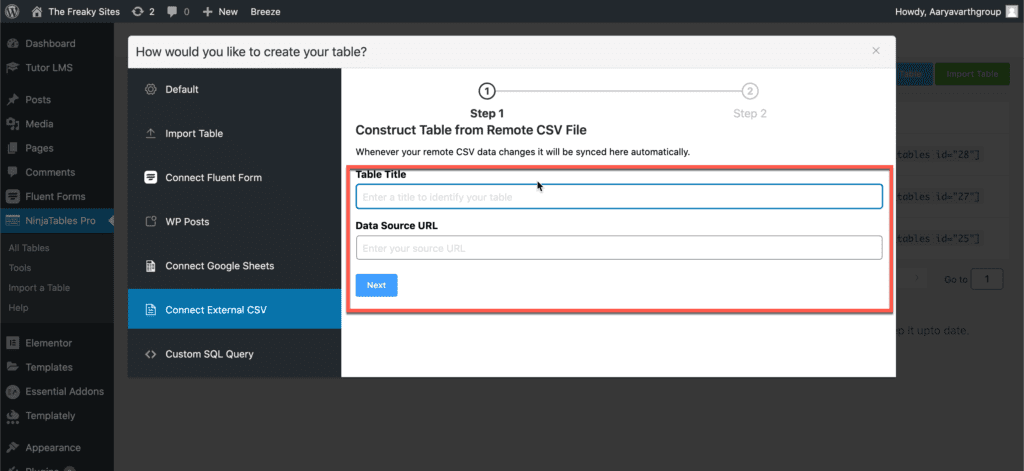 Create a Table with Custom SQL Query
To construct the table with Custom SQL Query, you have to write the SQL Query then have to click on add to create the table.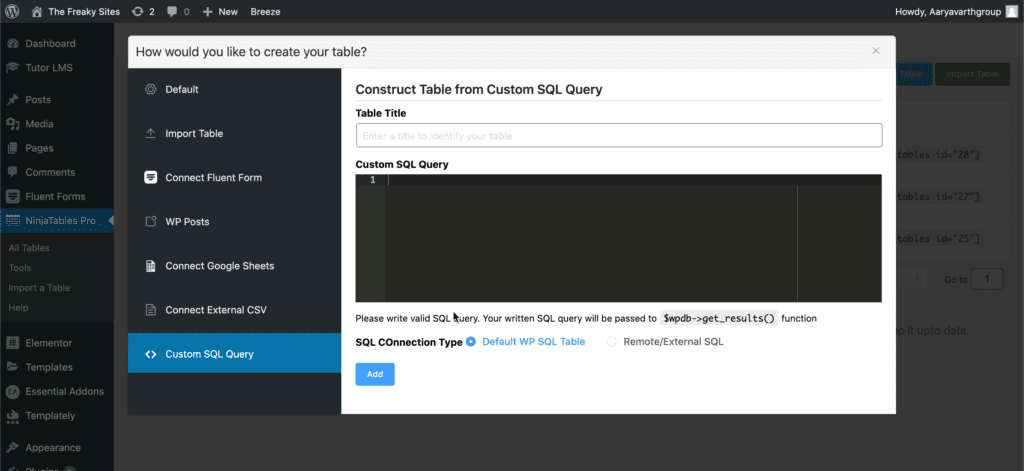 Ninja Tables Pro Pricing:
Ninja Tables comes with both Yearly as well as Lifetime Plans. Moreover, you have an option to choose the Signal site, 20 sites and unlimited sites license.
Yearly
Single Site License – $49.00
Agency License (Up to 20 Websites) – $99.00
Unlimited Sites – $199.00
Lifetime
Single Site Lifetime License – $199.00
Agency License Lifetime (20 Sites) – $399.00
Unlimited Site & Lifetime License – $599.00
If you purchase any Pro plans, then you get all the premium features, doesn't matter whether it is Yearly or lifetime.
Worried about Refund? Then here is the good news for you, Ninja Tables Provides a Risk-Free 14 Day Money Back Guarantee.
Ninja Tables Review Conclusion:
Ninja Tables is the best WordPress Tables Plugin with the most advanced features and integration that lets you create beautiful looking tables in WordPress. If you want All a one Tables Plugin then blindly go for Ninja Tables Pro.
We tried to explain everything in this Ninja Tables Review. But if you want documentation of Ninja Tables then you can click here to visit.
Many users complained about their support but if you know about the product properly then you don't need the support in all cases. But still, if you have any then you can create Ninja Tables Ticket Here.
I hope you liked our Ninja Tables Review. Please share this Ninja Tables Pro 2020 Review with Your friends.